It's great that you have found your way to our website. We are Carmen and Andreas and we live with our youngest son (two children left our home yet) and dogs on a farm near Augsburg in the beautiful region of Bavaria.
Our love for the Shar-Pei initially began a few years ago after seeing photos of this extraordinary breed of dog. We read books, researched on the Internet and spoke to breeders. We knew straight away that the Shar-Pei would fit right in with our family but, unfortunately, we had not had the pleasure of meeting this breed in real life, until now. Our increasing desire for a dog of our own resulted in a visit to a Shar-Pei breeder. We fell for the charm of the wrinkly puppies and the adult animals straight away. We actually only wanted to have a look… and a touch… But it didn't stop there and that's how we got our first Shar-Pei.
Now, we can no longer imagine life without these wonderful dogs. The myths surrounding this very ancient breed of dog, its characteristics, pride, strength, bravery, gentleness and serenity, a certain degree of stubbornness paired with an almost philosophically-seeming intelligence, as well as unconditional loyalty towards its family, result for us in the irresistible charm of this breed. Personal experience has shown us that the Shar-Pei is a unique dog and anything but ordinary!
In 2011, I (Carmen) began my first stages in dog breeding with the registered association VRZ under the kennel name of "Very-Important-Pei". After that we got our bitch Kathy, and I decided to change to one of the associations belonging to the VDH.
We are members of the registered association "1. Deutscher Shar-Pei Club 85. e.V." since 2013 and we established our breed under the Kennel name "Rock and Royal".
"Rock" represents the boisterous and wild love of life that you can see when the Shar-Pei is playing for example. "Royal" represents the regal and graceful charisma of the Shar-Pei.
I am a member of the 'GKF' (a German community which promotes the research into Cynology) and I frequently visit seminars as well as advanced training courses.
We hope you enjoy reading our page and would be really happy if it gives you a good idea of the Shar-Pei breed. If you have any questions or suggestions, please do not hesitate to contact us.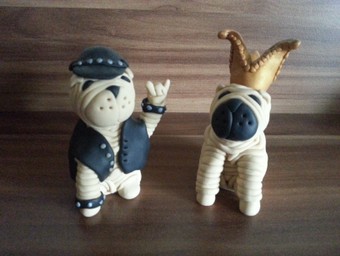 Shar-Pei Rock & Royal
Handmade by Ilse van Toorenburg-Götze